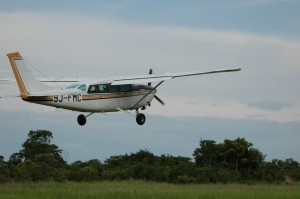 I found out that Gordie Bakke, the AEF pilot at that time, had a private license in Zambia although he had a Commercial license in U.S.A. It was their mission policy to do maintenance work on other mission planes, labor being free of charge. This knowledge encouraged me as I always thought I would need to be an Aircraft mechanic and commercial pilot to be able to fly for the Lord in Zambia. Some of my fellow missionaries and friends encouraged me to get back into flying and told me there was a flying club/ school in town 400 miles away. In May 1987; after two weeks of theory, followed by two weeks of flying and exams I had my Zambian pilot license. I continued renting a plane and flying whenever I went to town.
An assembly Missionary Pilot/ mechanic (John Loudon) flying for M.A.F at that time in Kenya came to Zambia in 1988 and offered his services as a pilot. I expressed that if there was to be any flying service, I would like to be involved. The vision was put on hold at that time.
With the convenience of having an airstrip at Kalene I was able to think of having a plane to use for part of my work with the thought that it could have a wider use in time.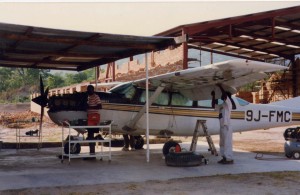 Planes in South Africa were sold before we could get further details. A fellow pilot told us of a plane being sold by Flying Mission in Botswana. We contacted them and asked if they would be willing to hold the plane for a while to see if I could get enough money to buy it. It was a C-207 with a new engine and propeller. It is turbo charged with an S.T.O.L. (short take off and landing kit) and it has 8 seats and oxygen. They held it for over a year. We were able to borrow and use our savings to put a large deposit down. The plane did not include the H.F radio a G.P.S. (global positioning system), a Storm Scope or head sets for all the passengers. These were installed before we flew the plane to Zambia.
My original exercise was to use the plane for:
1. For my own traveling maintenance ministry.
2. For Kalene Hospital:
Medical emergencies
Carrying money for wages the 350 miles from town instead of transporting it on a road which has had trouble with Congo bandits
Business trips to town. Shopping, meetings, etc.
Picking up medical students and visitors
General travel
Getting the single sisters off the station for short holidays
3. For Sakeji Mission School (the school is 15 miles away from us):
Transporting children to and from school
Transporting staff
4. Flight service to all the C.M.M.L. missions that wish to use the service for the same reasons above.
5. Village work taking the missionaries that do this to the areas they go to in seasons when road travel is cut off.
6. Flights to other countries, ie. South Africa, Zimbabwe, Botswana, Kenya, etc.
There are over 22 airstrips on mission stations or in towns where missionaries live or would want to go to. So there were plenty of places to fly to. There is potential for more airstrips to be put in at a number of mission stations.
Once the arrangements to purchase the plane were completed we went back to Canada and completed my Canadian private pilots license and then went to the USA to get my instrument license with the help of Steve Gay a Christian in Augusta Georgia, who owns Daniel Field airport with others in his family. Steve provided an instructor free of charge and use of his airplanes at cost. After one solid month of flying and ground school Steve did not charge me anything. A real gift and answer to prayer! I came back and did several more weeks of flying at cost as we first agreed. We returned to Zambia Jan 5/1993. We flew down to Botswana and I was trained on the Cessna 207 and flew in up to Zambia in Feb 1993.
Missionaries who were interested to have a Flight Service in Zambia were called together; they acted as advisors to me at first. I was totally surprised that we flew over 350 hours in the first 12 months. That was confirmation to me that there was a real need for a plane in Zambia to help the assembly missionaries. Things gradually developed into what was called CMML Flight Service, now renamed as Mission Flight Services. It is operated by 7 committee members and advisers of which I am one. Eventually the Flight Service was able to own the plane outright, thanks to generous gifts from the Lord's people that paid off the loans.
We have tried to fly at as low a cost as possible over the years. It is felt that contributions by the Lords people towards the flight program would allow the costs to be greatly reduced for Missionaries to fly and allow subsidization of medical emergencies, to provide for expenses for additional facilities for the flight program.